MGM Camera 65 Circa 1959
Anamorphic 70mm Print
Films courtesy of Theo Gluck
MGM Camera 65 / Ultra Panavision 70 incorporated a 1.25x squeeze in photography. This yielded a maximum aspect ratio of 2.76:1 in 70mm magnetic striped prints. But the squeeze wasn't included just to make the widest of all aspect ratios. It allowed the production of prints in any aspect ratio, especially CinemaScope compatible 2.55:1 and 2.35:1 without cropping the image vertically.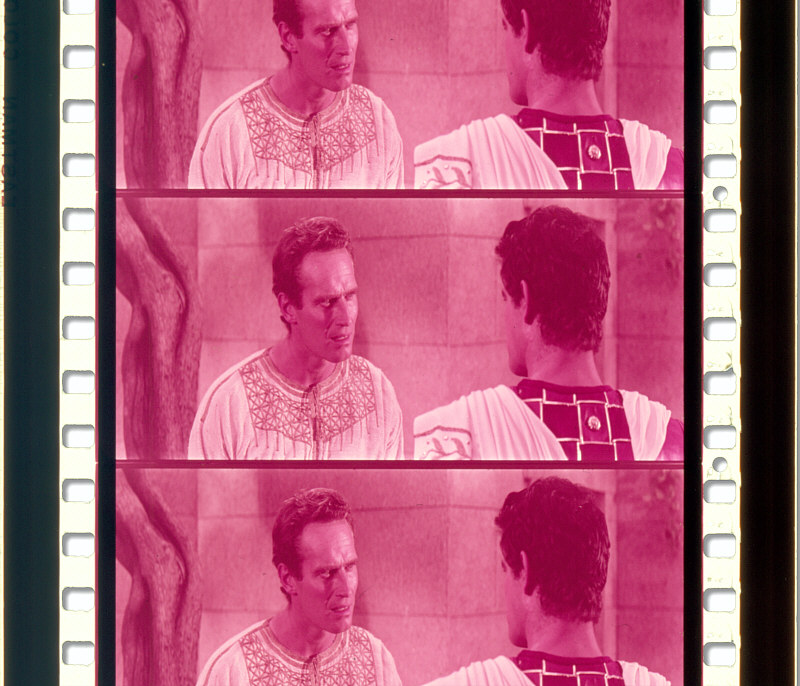 The Prince of Hur sees red when his childhood chum, Messala, speaks unfavorably of the Jewish rabble making trouble. But the red image is due to unstable color dyes.


Unsqueezed image from the above film.
Just For Yucks
70mm Image with DVD Image Overlay
This is hardly a video transfer to be proud of. There's way too much image lost, particularly in the vertical dimension. BUT THERE IS REASON TO BE A BIT JOYOUS. Warner Home Video will be releasing a new Deluxe DVD set featuring a new transfer, ostensibly made from 65mm elements, and presented in a lavish four disc set that not only includes many materials released with earlier LD and DVD issues, but with a new documentary, full music score by Miklos Rozsa, and the Turner/Thames restoration of the 1925 silent "Ben-Hur" featuring Carl Davis' music score. Release is scheduled for September, 2005. If the new transfer is anywhere near the quality of Warner releases over the past few years, this will be a set worth owning. Your Curator tingles in anticipation!




READ THE NEW DVD REVIEW
---
Contents Copyright ©2001 The American WideScreen Museum - All Rights Reserved