---
EARLY M-G-M CAMERA 65 TEST FOOTAGE
Film scans courtesy of George R. Willeman
---
SHOOTING A NEW M-G-M LOGO

The MGM logo, especially the Technicolor version, was one of the most impressive openings to any studio film. Unfortunately the advent of CinemaScope, VistaVision, and other wide screen processes necessitated the production of a new logo that wasn't quite as vertically oriented. From late 1953 up through 1956 a substantial number of new logos were commissioned and, well how can I say it?, They all sucked! Most of the new logos were poorly photographed, though some used a lion that had just washed his hair and couldn't do a thing with it.

Shown in the following four photos is one of the logos being shot in MGM Camera 65.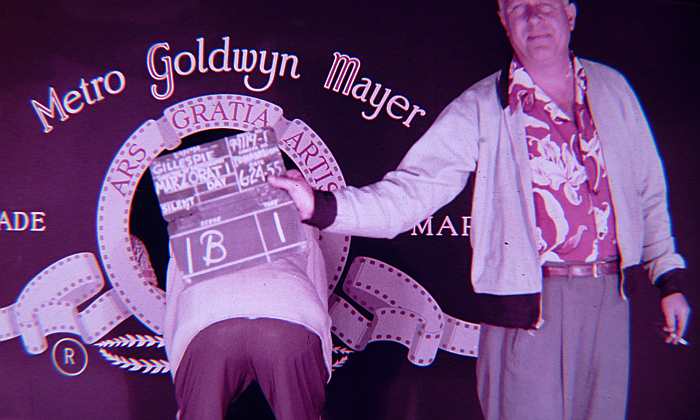 Yep, it's just a board that old Leo stands behind and roars, (hopefully), on command. That shirt probably looked a lot better before the yellow and cyan dyes faded from this print.
The information shown on the camera slate is very revealing. For instance the director of photography was Harold J. Marzorati and the guy in charge of the shoot was MGM's special effects head, A. Arnold Gillespie. The date of June 24, 1955 indicates that MGM did developmental work on their 65mm system for several years before using it to produce a complete film. It's a little hard to read but just above the date the slate indicates that they are using the Panavision system.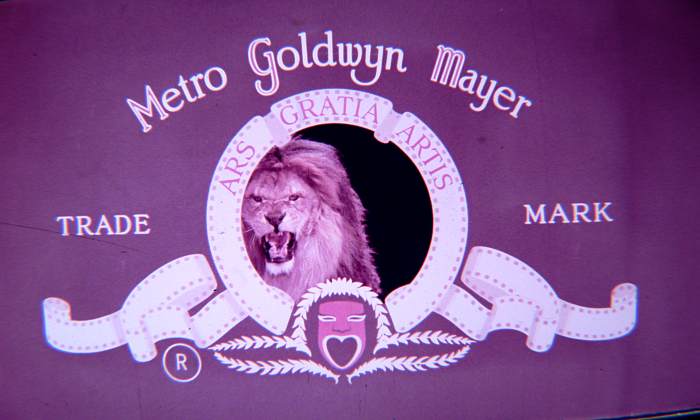 Damned good snarl, Leo, but you missed your mark. In addition to Leo not hitting his mark, it's obvious that the lighting needs to be adjusted a bit to ensure that the background is a good solid black.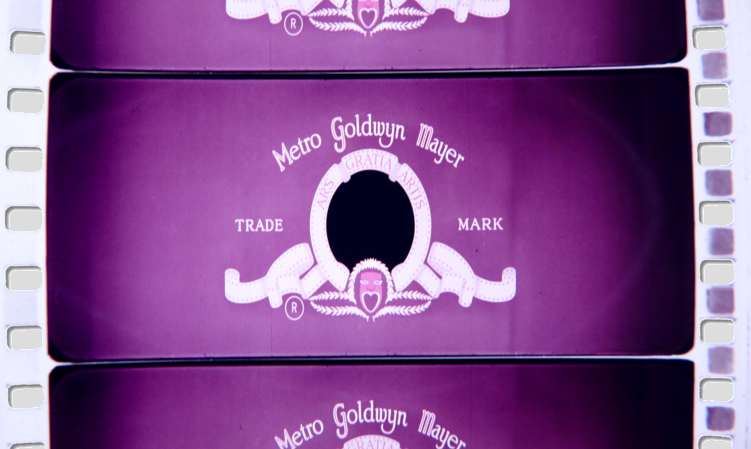 A 65mm print of the logo, shot while Leo was out with his acting coach. The Curator doesn't know if the logos shot this day were ever used in MGM's CinemaScope or VistaVision productions. By the time Raintree County was released in 1957 a vastly improved version was made which combined Leo and the rest of the logo using an optical printer. Leo's head from that version is still being used by Metro-Goldwyn-Mayer though his voice has been replaced with a dreadfully distorted overly loud digital recording of what could be Mrs. Godzilla delivering triplets. The 1.25x anamorphic squeeze is evident. Many sources continue to state that the initial squeeze was 1.33x, (the ridiculous "Wide Screen Movies" even states that it was a variable squeeze between 1.25x and 1.33x), but it was always 1.25x. The 1.33x figure came from a memo from R&D head Douglas Shearer to Loew's Inc. president Arthur Loew and it's an error, no more, no less. We have reproduced Shearer's memo. Return to the MGM Camera 65/Ultra Panavision coverage and select the "Historic Memo" to read it.
---
65MM PANAVISION LENS TESTS

A 65mm print of a lens test made in November of 1955. That 1955 Eastmancolor had the best picture and color quality of any film you could find, but the colors were a tad prone to fading. If the magenta layer was as fade prone as the cyan and yellow dye layers then they'd actually have a reusable film base.




Again the slate lets us know what's going on. The 65mm camera is under test using an 80mm Panavision anamorphic lens. The photography is by veteran D.O.P. Joseph Ruttenberg. Potential new acting talent is being directed by Al Truscony, long time MGM casting director.




Hey, that's a really wide picture once you unsqueeze it. Another mystery appears in the fact that the 80mm lens doesn't appear in any Panavision lens listing from this period. The WideScreen Museum owns one of the Ultra Panavision 75mm lenses.




If the purpose of the test was to see if the lens and camera combination could take a good picture of young women then it appears to be a resounding success. I leave you with the raw film with the ladies squeezed. Pretty young women should always be squeezed and not unsqueezed. Oh, that was just awful.



---
RETURN TO ULTRA PANAVISION
---
©1996 - 2004 The American WideScreen Museum
http://www.widescreenmuseum.com
Martin Hart, Curator