Goosebump Raising Titles - Part 5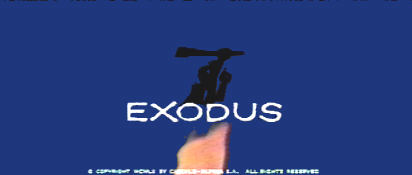 The combination of Saul Bass' elegant title design playing to the accompaniment of Ernest Gold's Oscar winning music made for a most impressive beginning for this film that deals with the establishment of the independent state of Israel in 1947. An excellent cast working with Trumbo's script and the sharp Super Panavision 70 photography by Sam Leavitt, A.S.C. made Exodus a major money maker in 1961. On top of that, it was also a very entertaining movie, a prime ingredient in most of the early 70mm productions.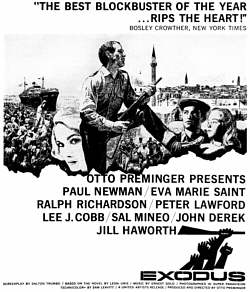 Courtesy of Robert Cioffi
One of many newspaper ad designs for Exodus. This one is included here because it has amused the curator for decades. Note how it appears that Paul Newman is resting his foot on Jill Haworth's chest. The lovely Miss Haworth is apparently gazing at Mr. Newman's gun. Sal Mineo seems to disapprove.
---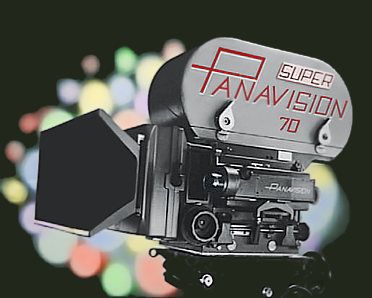 The Panavision 65mm Silenced Studio Camera. Aluminum colored paint and a snappy logo. This camera could be fitted with spherical optics for use on Super Panavision 70 productions or with anamorphic optics (and a quick name plate change on the magazine cover) to shoot Ultra Panavision 70 films. The camera core was the Mitchell FC 65mm camera modified by Panavision and placed in a rather elegant blimp.




---

VISIT Image Gallery of actual Super Panavision 70 film frames from the Robert A. Harris restoration of:

Lawrence of Arabia
---
Seen at left during the filming of West Side Story are co-directors Robert Wise and Jerome Robbins, to the left of the camera and cinematographer Daniel Fapp A.S.C. to the right of the camera.

Linwood C. Dunn, photographic effects icon for decades, and his associate Cecil Love, photograph the colorful overture/title sequence to Robert Wise-Jerome Robbins' West Side Story in 1960. Dunn's 65mm work was done with a Mitchell FC, fitted with appropriate lenses for Super Panavision/Todd-AO or Ultra Panavision. Love was Dunn's optics expert. The film's main credits, appearing at the end, were created by Saul Bass.
Photo courtesy of William Luca



---
You are on Page 3 of




---
---
©1996 - 2004 The American WideScreen Museum
http://www.widescreenmuseum.com
Martin Hart, Curator