Ultra Panavision 70/MGM Camera 65
70mm wide-screen original composition. Broad vistas and pulse pounding action are fine for giant theatre screens but television just can't handle all this information.
---
Pan & Scan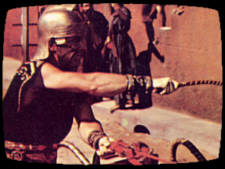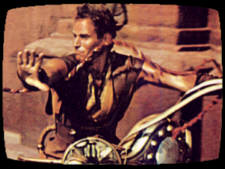 Pan & Scan bounces us all over the wide image, allowing us to see just a hint of the whole picture. Since you recognize all those problems with Lawrence of Arabia it seems a waste of time to point out the problems that this approach presents for proper telling of the story. What is supposed to be a race to the death between two bitter enemies comes off as a couple of guys just "doing their own thing". Audiences might wonder who or what Messala is lashing at, and just as surely, they'll be uncertain why Ben-Hur is being distracted by a whip. This is not the way the story goes.
---
Letterbox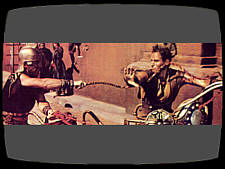 Letterboxing places the full ultra wide image on our little home sets. In exchange for the full image, the viewer now is left with a ribbon of nearly undecypherable action. People will wonder, "Who are those guys?", and this is Ben-Hur, not Butch Cassidy and the Sundance Kid, but can the viewer be certain?
---
The FlikFX Digital Solution
All the excitement, and none of the confusion of "normal" television transfers. Now there's no doubt about the enmity of the two combatants in the sand of the arena. The story, at long last, becomes clearer. The point of this scene is not to show a race, but to depict the final showdown of two enemies. Now they battle to the death in the same chariot. And the new improved version sets a far better example for the young people. No longer are these two men wasting huge amounts of energy by using eight horses to settle their score. Now they are doing the politically correct thing by car pooling. Truly, this tale has now been made one that will excite and educate the masses for decades.
---