T E C H N I C O L O R
System 4
GLORIOUS TECHNICOLOR
1932-1955
---
Walt Disney had broken ground in 1928 when he made the first animated cartoon with sound. In 1932 when Herbert Kalmus approached him with the offer to use the new 3 color process for the first time, Disney jumped on the idea. He already had a film in production, Flowers and Trees, a Silly Symphony cartoon. Others at the studio, including his brother Roy, thought that Walt was insane to trash the partially completed film and restart with the new process. Disney's vision proved to be correct. Flowers and Trees was a sensation, and it got the attention of the other film studios perhaps more than it did the public.

Flowers and Trees

(1932), the first commercial film to use the 3-color dye transfer system.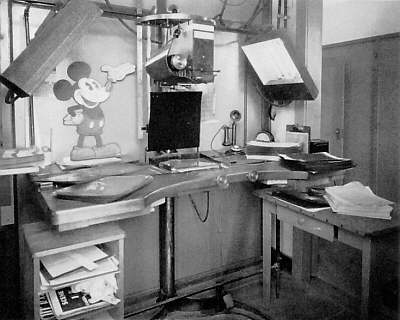 An animation station built at the Disney Studios in the late 1920's and used for decades. During the first few years of Technicolor production, Disney used a three-strip camera for photography. It was later changed to a single film successive exposure camera that photographed each animation cell sequentially through blue, red, and green filters. The operation of the successive camera is described on a later page.
Disney and Kalmus entered into an exclusive five year contract for the use of 3-color Technicolor for animated films. The contract was later changed to one year under pressure from other major studios who were not satisfied with Kalmus' offer to let them use the older two color process.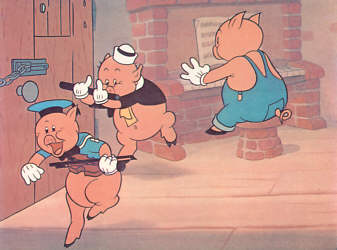 Three Little Pigs (1932)
Probably the most widely known cartoon short subject ever made, Three Little Pigs was a sensation around the world. While a brief "politically incorrect" segment has been removed, the film continues to enchant young and old to this day. The success and timelessness of the film must be partially credited to the beautiful Technicolor process, as Walt Disney realized from the start. It is claimed that Three Little Pigs bolstered the American spirit during the depression as the most popular song changed from "Brother, Can You Spare A Dime?" to "Who's Afraid Of The Big Bad Wolf.
All images on this page copyright ©Walt Disney Productions
---
Next

Three Strip Photography
You are on page 5 of the Technicolor History
You may jump to any other page











---
RETURN TO OLD COLOR HOME PAGE
©1999-2003 The American WideScreen Museum
Photographic and printing process illustrations ©1999-2003 AWSM - All Rights Reserved